Downloading YouTube videos can violate their Terms of Service agreement. Be sure to only download videos with the explicit permission of the content creator. Otherwise, you may be liable for copyright infringement.
YouTube videos are designed to stream, not to sit on your hard disk, phone or solid state drive. But sometimes there are very good reasons why you might want to save videos for watching offline. You might live in the sticks, where reliable broadband is as rare as reliable buses. You might commute through areas where people still point at aeroplanes, never mind let mobile data masts anywhere near them. Or you might be reliant on data connections so congested they resemble a freeway designed by the devil himself.
Or you might just want to save a clip for posterity because you suspect it's about to be deleted.
Whatever the reason, there are plenty of ways to download YouTube videos for free on Windows, Mac, iOS and Android. In this feature we'll share our favorites and explore what's legal and what isn't.
To the tubes!
Update
Several third party YouTube downloading and conversion tools have been shut down recently due to requests from Google and copyright holders, but all the ones we've used here are still active.
Download YouTube videos with TubeMate for Android
TubeMate is one of the most popular tool for downloading YouTube videos on Android smartphones, and with good reason: it's really easy to use and has the features you need without any bells and whistles you don't. We like it a lot.
This app isn't available on the Google Play Store (Google isn't too keen on YouTube downloaders), so first of all you'll need to allow your Android device to install and run apps downloaded from other places. Be cautious when you turn on this setting, as you'll want to make sure you only downloaded apps you know are safe and reliable.
Open up Settings and go to Security. Scroll down and next to where it says 'Unknown sources', tap the toggle to turn this setting on. Now, on your Android device visit the TubeMate YouTube Downloader website and select one of the verified sites to download it from.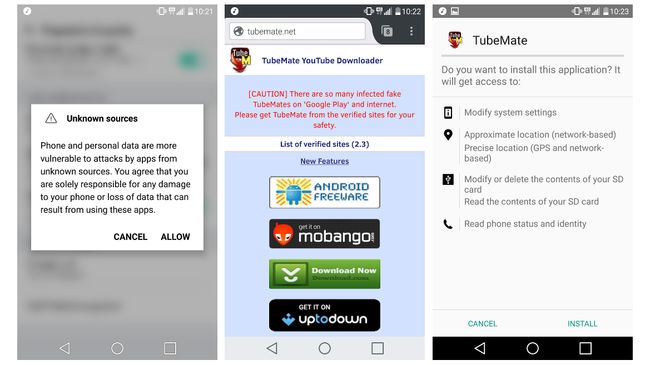 Free YouTube video downloader TubeMate isn't available in the Google Play Store, so you'll have to grant permission for apps downloaded from unknown sources, then get it from the developer's site
You might see a warning message about downloading APK files, so click 'OK' to allow it. Once TubeMate has downloaded, run the file and tap 'Install', then tap 'Open'.
TubeMate looks like the normal YouTube app, with an extra frame around it. You can browse YouTube as normal until you find what you want to download, or tap the menu icon in the top right, select 'URL' and paste the address of a video from your web browser.
When you watch a YouTube video in TubeMate, a bright green download button will appear above it. Tap it and you'll see a progress bar, which tells you that the app is "parsing video information". In plain English that means it's getting all the bits and pieces it needs to download the clip.
The next thing you'll see is a list of formats. You'll see video and audio formats and different quality and resolution options for each. If you have a high-end device then by all means download the highest possible quality versions, but remember that the higher the resolution the bigger the file: if your phone or tablet doesn't have much free space, YouTube videos will soon fill it up.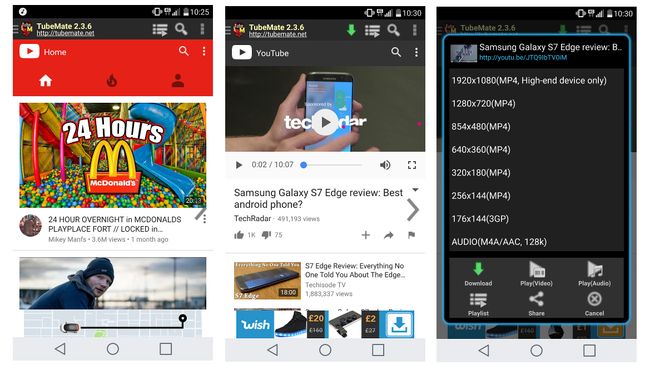 Browse YouTube as normal within TubeMate until you find the video you want, then tap the green button to download it in a format and quality of your choice
Download YouTube videos to an iOS device or Mac
If you're an Apple addict the process of downloading YouTube clips is very slightly different depending on which Apple OS you're on. If you're using iOS on an iPhone, iPad or iPod touch then you'll need our first method, and if you're using OS X or MacOS on a Mac you'll need the second.
On iOS, the trick is to install a clever little app called Documents. It's a file manager, but it also happens to be able to download YouTube clips too. The process is a little fiddly but still straightforward.
First of all, find the clip you want to download in the YouTube app for iOS or in Safari. Once you've found it, tap the Share icon and then Copy Link.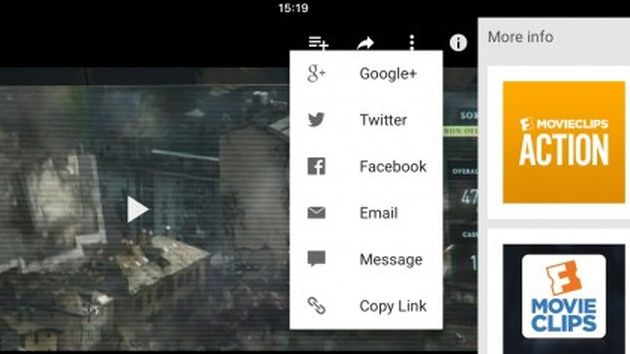 To download a YouTube video using iOS, copy the link from the YouTube app, then use savefrom.net and Documents to save it to your device
Open Documents and look for its web browser icon, which is the little compass at the bottom right of the display. Tap on that and go to savefrom.net. Paste the address of the YouTube clip in the big input box, choose the quality options you prefer and the file will start to download.
When it's finished it'll appear in Documents' downloads section, from which you can drag it over Photos > Camera Roll so it's available from outside the Documents5 app.
Download YouTube videos to a Windows PC
There are all kinds of PC apps with names like Super Best Windows YouTube Downloader Oh Yeah Try This One, but many of them are dodgier than dodgy Dave's dodgy dodgems: expect unwanted software installation, misleading download links, terrifying terms and conditions and other tomfoolery.
If you're not fussed about downloading multiple clips simultaneously, we really like Any Video Converter Free. As with other apps you simply have to provide it with the clip address, choose the quality you want and let it do its stuff. If your ambitions are a little higher, the excellent aTube Catcher offers all kinds of tools for pixel-perfect performance. It's really quick too.
You'll find both these apps – and lots more – in our roundup of the best free YouTube video downloaders for Windows. Or if you'd rather use a web-based tool, we really like ClipConverter.cc.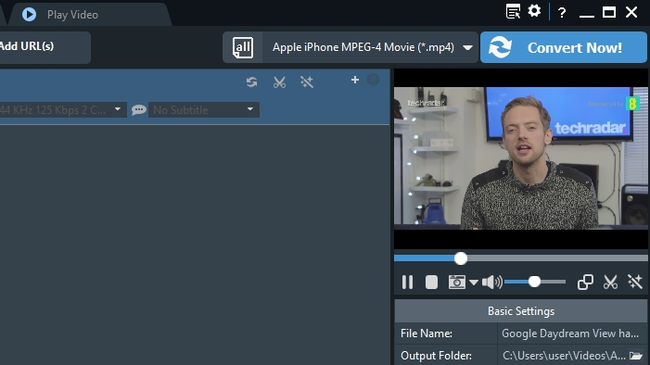 Any Video Converter Free is a superb app for downloading YouTube videos on Windows. It lets you save multiple clips at once, and optimize them for playback on any device
That's a very good question. It's certainly against YouTube's terms and conditions, which say you can only use its content for streaming, and you could argue that it's unethical too – many artists depend on YouTube's ads for their income, so any ad-free playback you do is depriving them of real cash money.
We suspect the legality of this is similar to ad-blocking: content owners would really rather you didn't do it and try their best to stop the tools from working, but there's not a lot they can actually do to prevent you watching videos ad-free if your listening comes under 'fair use' in copyright terms. Then again we're not lawyers, so proceed with this at your own risk.
What formats can I download YouTube videos in?
Video downloading apps usually give you a choice of file formats. The most common are MP4, 3GP, AVI and MOV; the choice of format and quality settings will affect what you can watch your video on, and how good the video will be.
If you're not too fussed about video quality, 3GP is the file format for you. It's perfect for small-screened mobile phones and awful on anything else, but the files are tiny – which matters on old mobiles, as they don't usually have very much on-board storage or any memory expansion capabilities.
For other devices, MOV is Apple's video format and works on every Mac, AVI was developed by Microsoft and works happily on PCs, and MP4 is the video equivalent of MP3 and works on pretty much anything. For maximum compatibility we'd suggest sticking with MP4.
How about video quality?
The next decision you'll need to make is the video quality. If you're downloading via a service such as ClipConverter – a process explained on the previous page of this article, you'll be given a choice of video sources. That's because YouTube streams in multiple qualities ranging from 3GP for old mobiles to 1080p high definition for big HD dispIf the video you're downloading has music, it doesn't matter what video quality you choose – the soundtrack has the same bitrate whether you go for a 480p video or a 1080p one. That's because YouTube's audio and video streams are two separate things, so adjusting the video quality doesn't make any difference to the quality of the soundtrack.lays.
3GP aside, you have four options here for your computer, smartphone or tablet: 360p, 480p, 720p and 1080p. The higher the quality the bigger the file, so the trick is to balance quality and size: unless you're watching on a really big screen, you can probably manage without 1080p quality unless you've got oodles of spare storage (although 360p video won't look good on an HD display).
Unless you have unlimited storage capacity, the trade-off usually means finding the lowest video quality that you can tolerate on the display you'll be watching the video on.

Tags : how to download youtube videos on android phone directly, how to save youtube videos on android mobile, how to download youtube video on android without app, how to download youtube videos in mobile directly, youtube video downloader for android, how to download youtube videos in mobile without any software, how to download youtube videos in mobile without app, download youtube videos android app

Google Tags : 
how to download youtube videos in mobile, how to download youtube videos without any software, how to download youtube videos on android, how to download youtube videos on iphone, youtube video downloader free download, , download youtube videos mp4, how to download music videos from youtube, download youtube videos mp3, how to download youtube video without software, how to download youtube videos in mobile, download clipgrab, youtube video downloader free download, how to download youtube videos on android, how to download music videos from youtube, steps to download videos from youtube, how to download videos from any website