Gmail, YouTube, Drive and others. You know the many uses of Google apps on your Android smartphone. But Google never stops and is always developing new apps to make life easier for people and to improve the Android experience. 
However, some of the apps that have been launched don't follow the marketing of a Duo or Allo, and are hidden in the Play Store. I took a look at seven of them that are sensational, although the public knows little about them.
PhotoScan
Each and every single one of your photos is important, and Google knows that. PhotoScan is cool because it's one of the best options to easily scan your old photos. The app is simple, and you can simply position the photo in the frame and capture it through points that are shown on the screen.
1. PhotoScan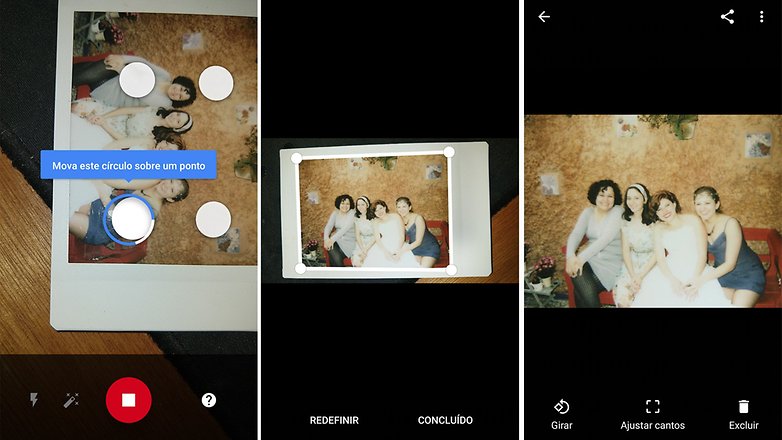 Scan your photos with PhotoScan.
PhotoScan takes care of tilting the picture without causing a glare, creating a clear and already framed image in the correct perspective. It does not look amazing, but if you can't afford a restoration or buying a scanner, it's the next best thing. It still automatically uploads everything to Google Photos.
2. Google Trips
This app is kind of scary, since once you install it your past and planned travels already appear in the app. It recognizes your travel and reservation emails in Gmail and then puts everything together for you in folders.
And on every trip you can check out places to eat, hotels, flights and even tourist attractions, either separated or placed together in suggestions on a roadmap within a predefined time period. It also provides information about hospitals and local currencies. You can even download everything so you can consult it without being online.
3. Trusted Contacts
This app is great for family use. Your son leaves the house and you want to know where he is and if he is well, but who knows if he will see your WhatsApp messages or answer your calls. To keep you with a level head, this app can pick up the person's smartphone location whenever you need it.
You select your contacts who will receive a notification that they can see your location. You can choose to always share your location or to only respond to requests for your location. It is possible to keep people informed of your location up to 24 consecutive times, and you can cancel the service before that as well. And if you need it, the app is available for iOS as well.
For those who are especially curious, this is the app for recording your observations and experiments around the world. It's good for kids and students, but can be used by anyone. In your journal you can open a new experiment and start recording observations.
In addition to providing access to the camera for photos and videos and to the gallery for access to other files, there is a toolbar for science experiments, which includes ambient light and a sound sensor, an accelerometer, a compass and a magnetometer. You can even set alerts for when the sensor picks up something.
5. Accessibility Scanner
This app may seem useless to you, but accessibility is a serious matter, since there are numerous people who have vision problems and need to be able to use a smartphone. Blind people, colorblind people and people with very limited vision need specific conditions to get good use out of their apps.
With a scan button superimposed on the screen, you can enter the apps and request an evaluation of each of them with suggestions for improvement. Developers can use this to see what they need to do and others can send evaluations so that companies improve their apps for those who require improvements.
6. Arts & Culture
Many people don't have the opportunity to travel around the world and see museums, but they don't have to miss out on art and the other great wonders of the world. Many already know about Google's plans to make museums available for everyone, but this app brings them all together in one place.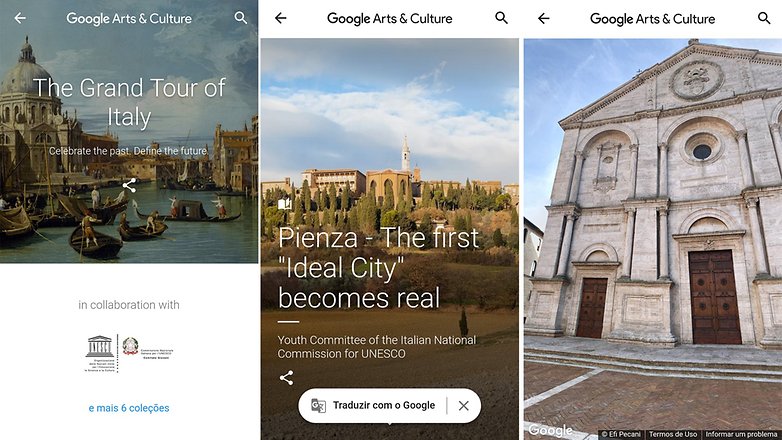 Get to know the world's wonders, without leaving where you are.
In addition to country history, this app features videos with historians and experts as well as provides access to paintings, sculptures and more. Panoramic photos of cities and art can be viewed with the naked eye or through the use of VR equipment, even if it's just very cheap cardboard. There is a version of the app for Daydream.
7. Toontastic 3D
The most fun app is also the last one. With Toontastic 3D you can create animated stories using varied scenarios and different customizable characters and also receive support to develop scenes and stories. The app is complete and very well developed with high quality.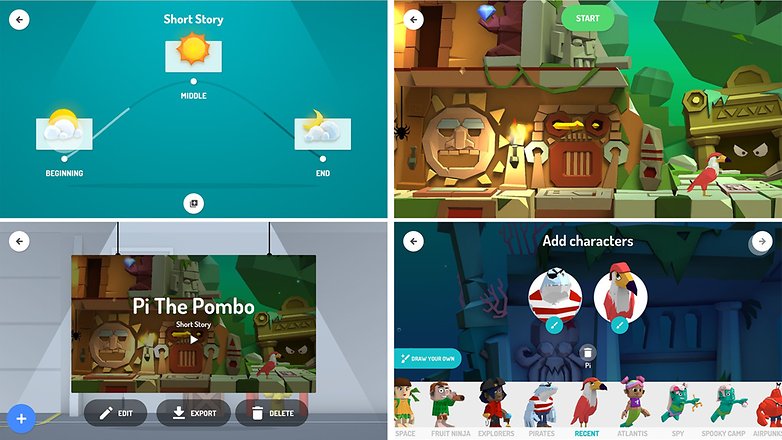 Create the next Oscar nominee with Toontastic.
While recording the scene, you can move the characters and record your voice. It also defines the emotion of the scene so that the soundtrack is applied accordingly. In the end, you can export your video, which will be complete with opening and closing credits.
I bet you didn't know many of these apps and that you were also impressed by the quality of some of them. I particularly enjoyed Toontastic and the Science Journal, which provide fun and useful knowledge. There are many other Google apps, but we hope you've found something for you in our special selection.