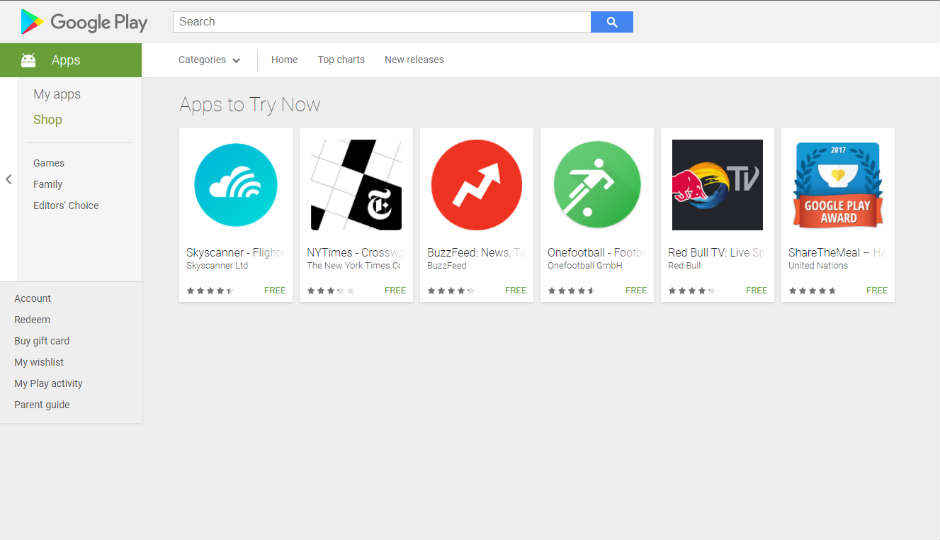 Google announced Instant Apps at I/O last year and made it available to developers in May. The feature allows Android users to check apps without installing them in full.
Google is announcing a number of changes to Play Store, including the rollout of Instant Apps that bridges web apps and native apps. With Instant Apps, Android users can try apps immediately without needing to install them on their mobile. Google introduced Instant Apps at I/O developer conference last year and it basically allows Android users to check apps without installing them in full. In order to make apps compatible with Instant Apps, developers need to partition their applications into small, runnable parts so it can be run with a tap of an URL. Google made it available to developers at I/O 2017 held in May. Google has now started integrating Android Instant Apps with a new 'Try it Now' button on store listings. The feature is only supported by a handful of apps including Skyscanner, NYTimes - Crossword, BuzzFeed, Onefootball Live Soccer Scores, Red Bull TV and ShareTheMeal. Google is also revamping Editors' Choice category and it has gone live in 17 countries.
Google is also revamping its Games section with a new home featuring trailers and screenshots of gameplay. The section will soon get new destinations for New and Premium games. The focus is also on highlighting Indie Game selections via Android Excellence program. Google is also revamping its Play Console to improve app quality, manage releases and monitor every step of an app's lifecycle. Part of the initiative is Android vitals, which was first introduced at Google I/O 2017. Google says already 65 percent of the top developers use Android vitals dashboard to study their app's performance. With the new update, Google is adding five new Android vitals and allow developers to increase device coverage. Google says it will "help developers address issues relating to battery consumption, crashes, and render time." The search giant is also introducing the Google Play Security Reward Program aimed to incentivise security research into popular Android apps including Google's own apps. The program will help Google and other developers to find vulnerabilities and notify developers via security recommendations. Google is also inviting developers and the research community to work together and improve Google's Play security landscape.